Equestrian Adventures
Horseback Riding in the Ranch & Beyond
Want to get away from the havoc of the city and immerse yourself in nature? . Horseback riding is one of those experiences that evokes positive emotions and creates lasting memories. So, let's saddle up and let the riding adventure begin. Around our ranch we ride over the hills and in valleys, the trails offer wonderful views of pastoral vistas, fortified town Sighnaghi, Alazani Valley and the Caucasus Mountains. Scenic rural villages, tiny centuries-old churches and the famous holy site of the Bodbe Covent are some of the other highlights. We have calm, well trained Caucasian horses and the tours are accompanied by professional local guides, and are suitable for riders of all levels. There's always heartful food from our tasty kitchen, cooked with ingredients sourced from our own permaculture gardens, and afterwards you can rest in our stylish & comfortable rooms for an overnight stay, and enjoy a glass or two of refreshing craft beer from our Svia Brewery & vibrant natural wines from Pheasant's Tears Winery.
Along with shorter excursions from 1 to 4 hours in the scenic valleys and hills adjacent to the ranch, we offer tailor-made multiple day equestrian experiences through various ecosystems in different regions, everywhere from arid semi-desserts to subtropical lowlands and alpine highlands of Georgia.
Picnics, wine and beer tastings & cooking classes, team buildings and events can be organized at our charming venue and as well as various other regions of Georgia, so don't hesitate to reach out and let's plan your special visit together.
Horseback Riding around our Ranch
Our horseback tours with an accompanying guide around the ranch are suitable for both inexperienced and professional riders, the prices start at 50 GEL per hour with discounts for booking 2 or more hours. We recommend reserving your preferred time slot in advance & look forward to riding with you.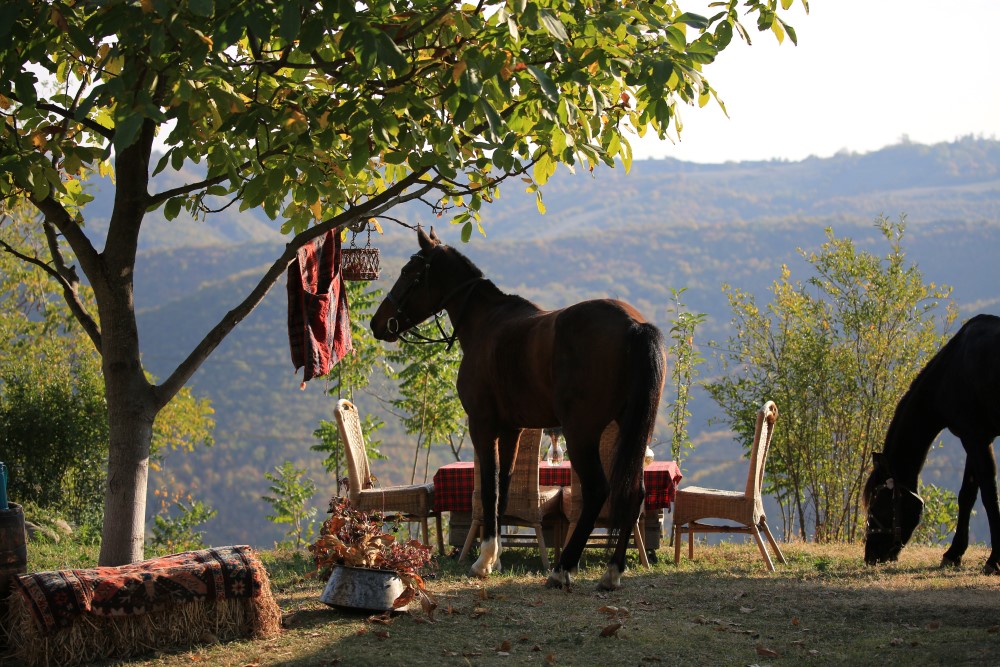 Equestrian Adventures in National Parks
Georgia boasts more than 30 National Parks and Nature Reserves that offer different trail options for wonderful horseback riding experience in the wild and untouched nature of Georgia. Overnights are usually spent in tents or basic mountain huts and the daily rate for the tours starts at 200 GEL.
Horse Riding Holidays in Tusheti and Khevsureti
Our favorite multi-day mountain holidays take place in the remarkable mountainous regions of Tusheti and Khevsureti, both boast pristine mountainous nature including alpine meadows, cascading waterfalls, rare flora and fauna, and breathtaking vistas. Amongst nature's bounty you have small hamlets with homes made of stacked slate dotted with medieval towers and fortresses, where locals live very much according to bygone times practicing ancient culinary traditions laced with foraging, brewing, and roasting as well the famous highland soup dumplings.
These two regions are also renowned for horse riding and races, as well as lovely polyphonic singing accompanied by lutes, accordions and drums that sometimes turn into dazzling fiery dances. On our horseback riding tours guests can find harmony amid unique ethnic culture and splendid nature preserved amongst mountains of glory.
Special Tailor-made Equestrian Experiences
Every rider and explorer is unique, and so are we in our expertise and passion, coupled together we'll make up a powerful tandem that is bound to design the holiday of a lifetime.  Whether it's just horseback riding, or an exciting mix with overlanding, hiking, culture and gastronomic experiences – we are here to create the journey that is just right for you. Get in touch and share some of your interests with us, let us know how we can make the holiday a little extra special or just give us carte blanche and wait for a program designed to challenge and inspire, making your equestrian experience in Georgia truly unforgettable.